Vertical Integration in Fiber Laser Empowers YOFC to Develop World-class Laser Brands
The laser has found its way into thousands of industries, becoming an intelligent, highly-efficient, green, and clean advanced processing means, and will profoundly influence and change an increasing number of industries in the future. Fiber laser as a mainstream key light source of laser processing, in recent years, has become the brightest growth point of China's laser industry. 2021, China's fiber laser market size of 12.5 billion, the domestic fiber laser accounted for nearly 70%.
In response to rapid development of industrial laser, Yangtze Optical Fiber and Cable Joint Stock Limited Company ("YOFC") (stock ticker symbol: 601869.SH, 06869.HK), a global leader in fiber and cable, achieved vertical integration throughout the whole industry chain of fiber lasers by acquiring industrial laser business (including laser chip, pump package and fiber laser) of Casela Technologies Co., Ltd. ("Casela Technologies") after preliminarily realizing localized production of a full range of passive fibers for lasers, medium and high-power active fibers and specialty fibers and components.
Take the lead in localizing special optical fiber, and create an ingenious brand
In response to the wave of localization of fiber lasers, numerous upstream and downstream enterprises achieved localization in areas such as semiconductor pump chips, pump package, specialty fibers, optical components, crystal materials, lasers and laser cutting equipment. YOFC has increased R&D investment since 2015, and joined hands with Chinese leading fiber laser companies to promote R&D and application of home-made fibers on the basis of its leading technologies in fabricating preforms and specialty fibers on the PCVD and MCVD platforms. With long-term arduous efforts, strategic results in the application of home-made specialty fibers were achieved.
In the end of 2021, YOFC commenced vertical integration of the industry chain of fiber laser by establishing Everfoton Technologies Corporation Limited (Everfoton), a subsidiary responsible for business of specialty fibers, optical components related to fiber lasers on behalf of YOFC. In April 2022, Everfoton acquired Fiberfoton, a wholly-owned subsidiary of Casela Technologies Corporation Limited. With long-term efforts of technical teams to promote fiber laser business, Fiberfoton has had key technologies in relation to semiconductor materials, laser chips, pump package and fiber lasers in hand and gained rich engineering, production and operating experience. The acquisition of Fiberfoton by Everfoton was driven by their complementary industry chains and technologies in industrial laser sector. Everfoton enabled by internationally leading fiber laser technologies and powerful operation and management teams, is committed to developing branded laser products with craftsmanship and becoming an important player in both domestic and international fiber laser market.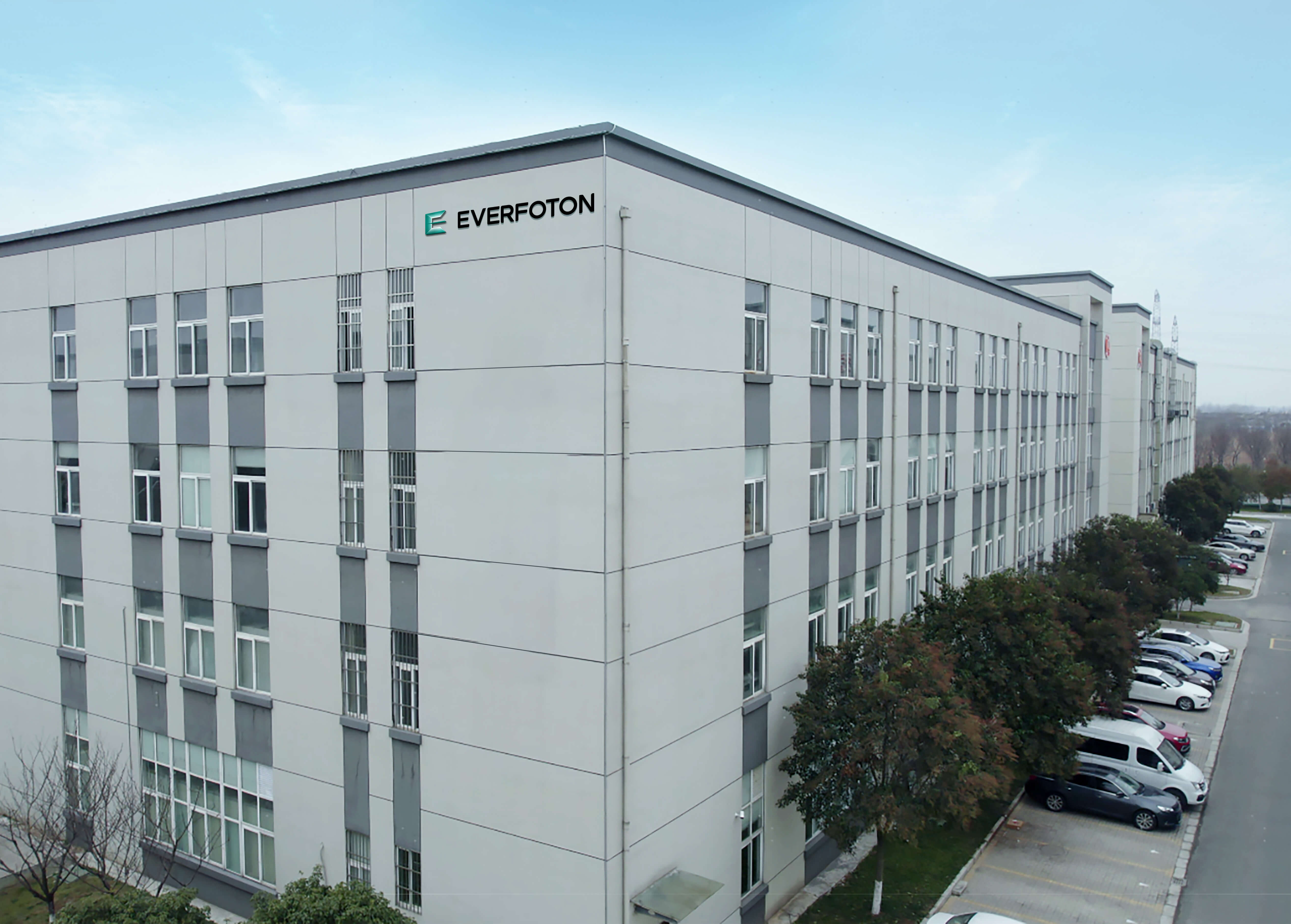 R&D building of Everfoton
More than ten years of technological development hammers at the upstream and downstream core technology
Before the merger of Everfoton, each technical team has accumulated experience in technology development in the upstream key components of fiber lasers for more than ten years, and hammered out differentiated, customized and high-performance fiber laser solutions with the advantages of semiconductor laser chips, pump package, specialty fibers and fiber components.
In 2010, YOFC's technical teams achieved ternary doping on the basis of the MCVD solution approach, and successfully developed home-made active fibers. In 2018, the triple-cladding active fiber, the first of its kind in China, was rolled out. By cooperating with strategic partners in qualitative determination, verification and continuous improvement, YOFC has seen a continuous increase in output power of active fibers.
With the advantage of PCVD platform and technological development for more than 30 years, YOFC has built the largest capacity and relatively perfect technology and products of laser passive fiber capability in China, realized the full series of passive fiber products for fiber laser, and launched many new products such as ring fiber, homogenized fiber, large core fiber and PM passive fiber according to new application scenarios.
Everfoton, founded in the U.S. in 2016, is empowered by elites specialized in semiconductor laser chips, pump package, lasers and electronic control, etc. Everfoton has also established fiber laser R&D and production centers in Taiwan and Nanjing in China successively. Everfoton now is a supplier of a full range of fiber lasers and differentiated and customized laser application solutions.

Lasers portfolio of Everfoton
Committed to high quality, Everfoton leverages the leading light technology to enables a better life
Quality in mind, craftsmanship in action.
Everfoton will make the best use of technologies and draw momentum from innovation to provide differentiated and customized laser application solutions.
Everfoton upholding the core values of "Integrity, Perseverance, Respect, Responsibility", is striving to become a world-class laser leader, extending leading optical technology to industrial manufacturing and other aspects of life, meeting increasingly diversified demands and thus enabling a better life.